UP TO $100 OFF JUVEDERM
GET FREE CONSULTATION:
HIT RESET ON YOUR LOOK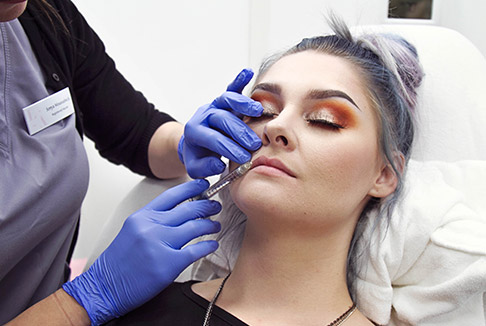 Juvéderm is a smooth hyaluronic acid gel that plumps your skin's wrinkles and folds. Hyaluronic acid occurs naturally in your body.
Gives you smooth, natural-looking results
Is safe and effective for all skin types and tones
Is the only FDA–approved dermal filler that lasts up to a year with a single treatment
Comes in two different formulations for customized results
Is noninvasive and nonsurgical
Is quick both in terms of treatment and recovery
Works its effects immediately
Contains no animal tissue and is cruelty-free and hypoallergenic
*Results and patient experience may vary.
ABOUT THE JUVEDERM EXPERIENCE
Your physician will begin by marking points on your face where she'll introduce Juvéderm. Then she'll clean the sites with antibacterial soap and administer a topical anesthetic to numb them. The Juvéderm application take only a few minutes. Afterwards, your physician will remove all the marks and apply an ice pack to the treatment site. It's important that you don't apply pressure to the treated areas. Doing so could result in displacement of the Juvéderm filler. Juvéderm lets you continue to lead an active life. It requires no downtime. You may experience mild swelling and bruising. But even this normally fades after a few days. Juvéderm is usually well tolerated by most people, but some side effects may occur. You might experience redness, pain or tenderness, unusual firmness, swelling, lumps, bruising, itching, infection, or discoloration at the injection site. Allergy testing is not required prior to a Juvéderm treatment, because hyaluronic acid fillers are generally biocompatible.
What To Do Before Your Juvederm Appointment